When we hear about the
 role of automotive electronics in cars
, the first thing that comes to our mind is different types of electronic systems used in automobiles such as; music system, safety airbags, & electronic controller. An automobile electronics mainly includes the headlight, LED brake light, etc. Every module used in an automobile is a modern electronic gadget. Previously, electronics in automobiles are mainly used for controlling the engine. But, now the latest advancements provide the most complicated driving skill to people. If you love automobiles, then it is very important to know about the electronics used in automobiles and one should update with the latest technologies used in vehicles.
Introduction to Automotive Electronics
There are different electronic systems are used in automobiles for automobile operations like to enhance the driving act, fuel efficiency, comfort of the drivers as well as riders. There are many devices are changed from mechanical to electronics. When we notice the automobiles cars in the year 1980s, they are used for only transportation but now they have changed into auto electronic engines through computer-controlled systems. This transformation can be done by employing several electronic systems in automobile design. An embedded system plays an essential role in automobile architecture. Because they used in the anti-lock braking system, telematics, music system, and safety airbags, radio, parking ability, etc. Additionally, it is important to know that electronic parts which are used in automobiles can be controlled digitally for most of the car operations. The electronic devices which are installed in an automobile can be categorized into engine electronics, safety device electronics, and chassis electronics, etc.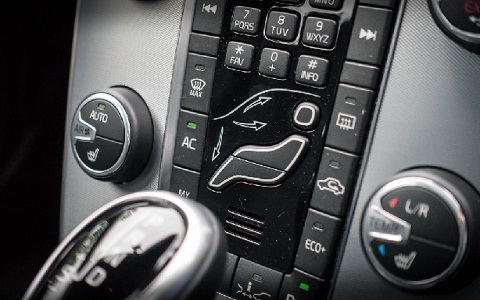 Types of Automotive Electronics
Automotive electronics are distributed systems which can be classified into different types based on different domains like Engine Electronics, Transmission Electronics, Chassis Electronics, Passive Safety, Driver Assistance, Passenger Comfort, Entertainment Systems, Electronic, and Integrated Cockpit Systems.
Engine Electronics
The ECU or engine control unit is an essential electronic part in automobiles. This unit can order one of the maximum real-time goals because the engine used in automobiles is extremely complex and fast. The electronics which are used in automobiles, the computer power of the ECU is the maximum like a 32-bit processor. In modern cars, they may have up to 100 ECUs whereas, in the commercial vehicle, it has up to 40 ECUs. An engine control unit in automobiles can be used to control the functions like rate of fuel injection, NOx control, controlling of emission, throttle, turbocharger, cooling system, and oxidation catalytic converter A gasoline engine can be used to control lambda, On-Board Diagnostics (OBD), ignition, cooling, lubrication system, throttle, and fuel injection. In real-time there are many parameters for the engine can be controlled and monitored.
Transmission Electronics
It is used for controlling the transmission system, mostly while shifting the gears for enhanced shift comfort & to lesser torque interrupt. The operation of an automatic transmission can be done by utilizing the controls & several semi-automatic transmissions include a fully-automatic clutch. The communication between ECU & the transmission control can be done by exchanging information &control and sensor signals for their process.
Chassis Electronics
The chassis system includes 
electronic subsystems in a car
, which monitors different parameters and controls actively like ABS (Anti-lock Braking System), EBD (Electronic Brake Distribution), TCS (Traction Control System), PA (Parking Assistance), and ESP (Electronic Stability Program).
Passive Safety
The passive safety system is all about learning & practicing of plan, building, apparatus & instruction to reduce the incident and result of traffic accidents of motor vehicles. These systems are always set to operate when there is a smash in development otherwise to stop it once it detects a hazardous condition like airbags, control of hill descent, and emergency brake aid system.
Driver Assistance
The ADAS or Advanced driver-assistance system helps a driver while driving a vehicle. This is designed with a secure HMI (human-machine interface). These systems are used for increasing automobile safety road safety. This system includes different assist systems like lane, speed, park, blind-spot detection, and control system like the adaptive cruise.
Passenger Comfort
The automotive electrons used in an automobile for passenger comfort mainly include automatic climate control, automatic wipers, adjustment of the electronic seat with memory, automatic headlamps for automatic beam adjustment, and automatic cooling for adjusting the temperature.
Entertainment Systems
The entertainments systems used in automobiles mainly include vehicle audio, a navigation system, and data access. All these can form an infotainment (entertainment & information) system. This system development method can change based on manufacturer. For both hardware & software development, various tools are utilized.